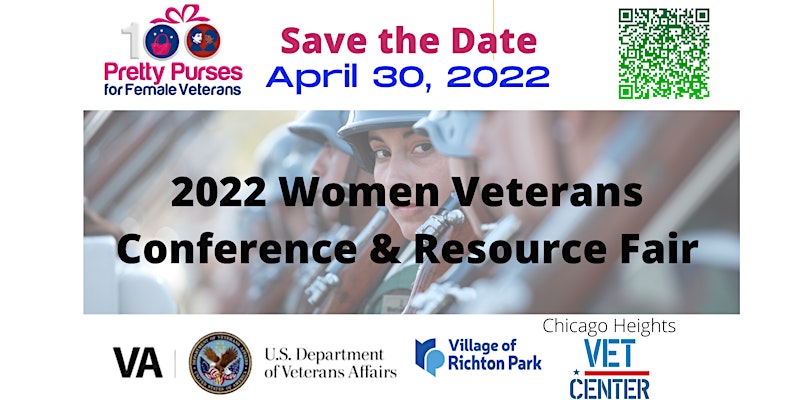 Tickets available at https://www.eventbrite.com/e/2022-women-veterans-conference-resource-fair-tickets-289045752627?ref=eios
100 Pretty Purses for Female Veterans is hosting an ALL women veterans conference and resource fair. Saturday, April 30. It's an all day, full of excitement, fun, education, bonding and so much more!
Get your tickets early. 250 tickets available.
VENDOR space is also available. Businesses and organizations that directly benefit females and are local to the south suburbs.
FRIENDS & FAMILY page is also available.
The purpose of this event is perform outreach and connect women veterans to services, RCS,VHA, VBA, faith-based and community based services
About this event
100 Pretty Purses for Female Veterans has been servicing women veterans by honoring them at our yearly celebration since 2015. The Creator & Founder Yvette Jones – Swanson has brought together the VA, Chicago Heights Vet Center, the Village of Richton Park and a host of servicing agencies to introduce, to inform and to educate women veterans of the many benefits there are out here that directly affect them.
Now keep in mind 100 Pretty Purses for Female Veterans is a gift giving, honoring and supporting agency for women veterans.
After many years of partying and enjoying many gifts we heard YOU! Everything our sister vets have ever written in a survey was compiled. This event brings it all together and so many agencies that directly affect "US".
This is it sisters. Come out and gets yours at the 2022 Women Veteran Conference & Resource Fair
Date and time
Sat, April 30, 2022
8:00 AM – 5:00 PM CDT
Location
4455 Sauk Trail
Richton Park, IL 60471
Tickets available at https://www.eventbrite.com/e/2022-women-veterans-conference-resource-fair-tickets-289045752627?ref=eios